Lavender Cottage
I am honoured that Kathy at A Delightsome Life has asked me to share a bit about myself in her '
How They Do It
' series.  I have been an avid gardener since we bought our first house and a freelance garden writer and photographer for 11 years.  Lavender Cottage is the name of our home and my writing business.
Lavender Cottage blog was started to further my garden writing but then I came across fellow bloggers with a mutual interest in Victorian decor and tea parties and I started to post about them as well.
The old saying that 'birds of a feather, flock together' is true of bloggers too.  I have come to know some wonderful women with common interests yet to keep things in perspective, my blogging circle is quite small compared to many.  It takes time to visit and leave nice comments so I only do what I feel I can handle and hope I don't offend anyone.  
Originally I set up my own blog template but that's stressful when you don't have the necessary computer skills and I wasn't getting the effect I wanted.  Hiring a professional was money well spent and scrutinizing blogs I admire inspires some of my content.
Two of my favourite magazines, Victoria and Tea Time have also contributed to topics I post on, and who can resist all the delightful decorating ideas they offer?
Sometimes I show my family; husband Glenn and I celebrated our 40th anniversary this summer
and we're proud of our 2 daughters, their husbands and our 6 grandchildren.
Gardening is definitely therapeutic and a hobby that can offer relaxation while at the same time, allow a person to be creative.  Each gardener realizes their own style and I've found mine to be Cottage Victorian.  Lots of wrought iron with formal elements mixed with an English cottage style.
 A bonus is the wildlife that is attracted and it can be a beauty or…
a beast.  Eventually an ecosystem forms when a balance is established from a diversity of plants and wildlife.
Each friend represents a world in us, a world possibly not born until they arrive, and it is only by this  meeting that a new world is born. 
~Arais Nin~
DELIGHTSOME GIVEAWAY
I think it is marvelous that Judith has offered to sponsor a giveaway
in this last "How Does She Do It" Summer Guest Post! She has
been a Delightsome blogging buddy for a couple years now! 
There will be TWO winners. Here is what you can win! 



Aren't they darling! These tabletop battenburg lace parasols that are perfect for
tea table props! I can just see them amidst dainty teacups, flowers and desserts! 



These lovely parasols will be awarded to TWO winners
 – here's how to enter:

1. Leave a comment on this post indicating you'd love
to win a parasol – please make sure there's a way I
can reach you.
2. Leave a comment on Judith's blog Lavender Cottage– she'll be 
posting this same post – I'll be moderating the giveaway and
will put together the entries from both posts based upon
time of entry/comment.
3. blog about or place the Lavender Cottage/Delightsome Life
Tabletop Parasol Giveaway button on your sidebar – leave
a comment on A Delightsome Life indicating you did!
4. Become a follower of Lavender Cottage and/or A Delightsome Life.


The giveaway is from Thursday, August 30 to Thursday, September 13.
We will announce the winner on Friday, August 14!
entrants can only be Canada and US citizens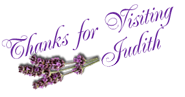 Thank you, Judith. I truly appreciate you sharing with us. I have thoroughly enjoyed
visiting with you over the years and greatly appreciate you,